Clayens NP Morocco: A historic score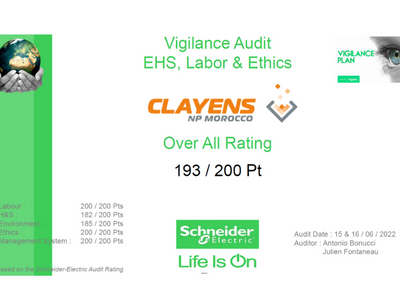 Clayens NP Morocco obtains the historical score of 193/200 at the Vigilance audit Closing meeting of Schneider
A historical record never equaled !
Audited by the Schneider group, last June, Clayens NP Morocco obtained a historical record never equaled: 193/200, at the Vigilance audit Closing. This audit aims to verify that the site respects the working conditions, the regulations, the monitoring of health and safety risks at work, it is an in-depth audit on the following subjects: A pre-selection of "suppliers at risk" was carried out on the basis of the evaluation of Schneider's partners (according to several criteria such as country and category), a self-assessment of about a hundred questions was previously sent to the Schneider électrique auditors.
A very good score which results from the work of all the teams of Clayens NP Morocco orchestrated by its Director Youssef Hedda and Siham Lahrech, Quality Manager Clayens NP Morocco.